Venue
Getting to the hotel from the airport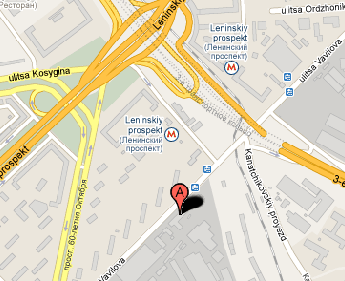 There are three international airports in Moscow: Sheremet'yevo (KLM, Air France, Aeroflot), Domodedovo (British Airways, Iberia, Lufthansa) and Vnukovo (Air Berlin, Germanwings). All three are connected to Moscow through a high-speed railway, called Aeroexpress, with moderately priced tickets (470 rubles, approx. $7).
The Aeroexpress timetables are available from their official site: [ Sheremetyevo | Domodedovo | Vnukovo ]. The point of arrival is a rail terminal, which is connected to a subway station: Byelorusskaya for Sheremet'yevo, Paveletskaya or Verkhnie Kotly for Domodedovo, and Kievskaya for Vnukovo.
The best way to get to the HSE Guesthouse from Domodedovo airport is to take Aeroexpress and change it to Moscow Central Circle at "Verhniye Kotly" station (the first stop from the airport). You can take a train towards Krymskaya there and the second stop, Ploschad Gagarina, is your destination.
At night (between 1am and 5am) the most convenient option is taxi, but during the day it can be very slow due to traffic jams. A taxi at the airport desk should cost 1500-2000 rubles (20-30$), if you have a smart-phone there are online-services (Uber, Yandex.Taxi, Gett) that start from 850 rubles (13$).
The map of Moscow Metro (subway) is found in Wikipedia. You should go to the orange (Kaluzhsko-Rizhskaya) line, if you go from the green line, you change at Tretyakovskaya-Novokuznetskaya, if you go by the brown line, you change at Oktyabr'skaya. The price of a subway ticket is fixed and does not depend on duration and range of the trip.
Yandex.metro may be helpful for Moscow subway navigation.
You can buy a local SIM-card in the airports, prepaid SIM with 3GB of mobile traffic start from 390 rubles ($6).
(*) https://weheart.moscow/dme/
(**) http://russia-travel-guide.com/tips/how-to-buy-local-sim.php
 

Usacheva, 6 (Faculty of Mathematics and Laboratory of algebraic geometry and its applications)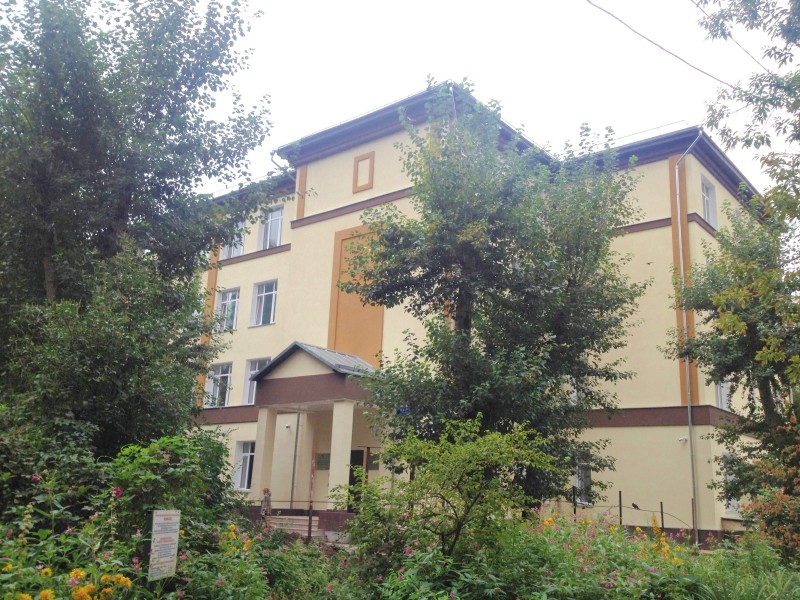 Higher School of Economics is a big research university which has many buildings in different parts of Moscow. The Laboratory's address is Usacheva, 6.
It is 10 minutes walk from the Frunzenskaya subway station. The Laboratory of Algebraic Geometry has a separate page with more maps and directions to the site.
You can get from HSE hotel (Vavilova 7) to the Faculty of mathematics and the Laboratory either on foot (~4.7 kilometers, see Google maps), by taxi (Uber or Yandex.taxi are the cheapest options) or by Moscow Central Circle (see Yandex.metro)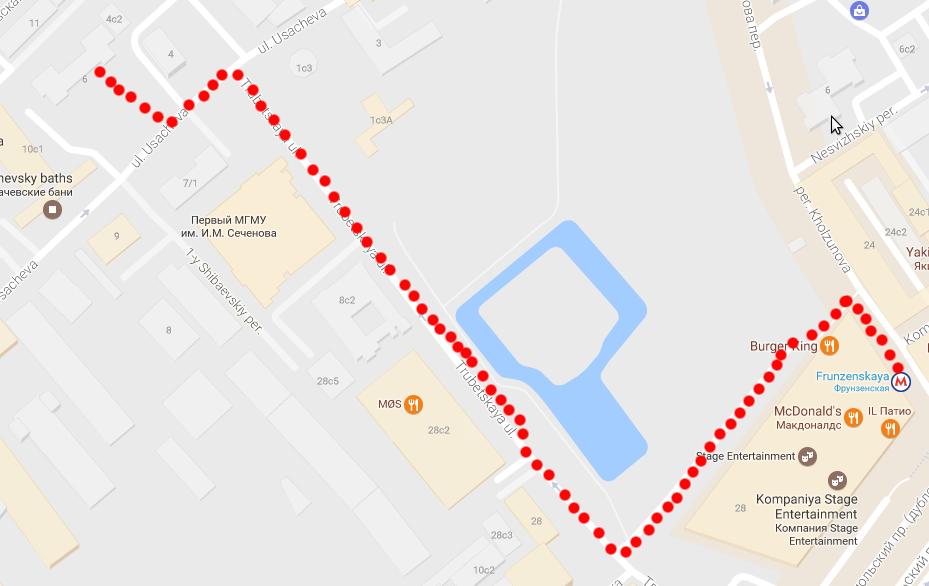 Steklov Mathematical Institute, Russian Academy of Sciences
Steklov Institute is 1300 meters from Akademicheskaya and 1900 meters from Leninskiy Prospekt. The Steklov Institute is situated in 20 minutes of walking (straight along Vavilova street) from Vavilova, 7.
Vavilova street is distinguished by having one of the tram lines, rapidly disappearing in Moscow. The tram line goes from the Universitet metro station to Oktyabr'skaya. The Steklov Institute can be reached from Vavilova, 7 by going straight along the street, as shown on the map here.The distance is approx. 1800 meters (20 minutes of walking). You can also take the tram. The tram driver sells the tickets for 50 rubles ($1.4), and they are sold cheaper at special stands.
As you go along Vavilova towards Steklov, on your right hand you see a huge building of pink brick; this is your clue that Gubkina street is next and you should turn right and enter the Steklov Institute, after you pass this (very long) building.
For directions to Steklov, please see the maps on the webpage of Steklov Institute. You can also take the tram from the Universitet metro station, or walk.
Sightseeing
The district where the Steklov and  HSE hotel belong is situated south-west of Moscow center, within 60-90 minutes of walking from Kremlin and Saint Basil. This part of the city is known as "Akademicheskij rayon" (academic district), because of predominance of Academy of Science establishments.
Most of it was built in 1950-ies, by German prisoners of war and prisoners of GULAG. The style is known as "stalinist Empire style", because Stalinist architectors of this time tried to model their building after the XIX century Empire style (the neo-classical style which was in fashion in the first half of XIX century). Highlights of this style include the Ploshchad' Gagarina (formerly Kaluzhskaya Zastava) and, of course, Moscow University, both within easy walk from Steklov and hotel (1 | 2). Many Academy institutes on Vavilova street, also build in 1950-ies, are striking specimens of the Stalinist Empire style, embellished with peculiar symbolic images.
Other popular walks include the Observation Platform in Sparrow Hills, situated next to the University, which provides a beautiful view of Moscow from above, and the Novodevichiy convent next to the Moscow river, founded in 1524, Donskoy Monastery, 1591, 20 minutes of walk north from the Vavilova, 7 building, and Danilov Monastery (1303), about 35 minutes east ( 1 | 2 | 3 | 4 ).
There is the Neskuchniy Garden on the right bank of the Moskva River, near the Park of Culture and Leisure, where you can also make an excellent walk.
Shopping and restaurants
There is an enormously huge hypermarket (Auchan) next to the Vavilova 7 (HSE hotel) place.
To go to Leninsky Prospect from Gubkina, 8 you should follow the Gubkina street further from Vavilova; Leninsky prospect is 100-150 meters from here.
Most shops in Moscow close up very late in the evening, and many of them work during the night.
Here you can find some nearby and far away restaurant adresses.
Remember, please:
only rubles are valid in Russia;
you must pay for the hotel during check-in (not check-out);
it is strongly recommended to keep your passport (or its copy) with you.

Miscellanea
Have you spotted a typo?
Highlight it, click Ctrl+Enter and send us a message. Thank you for your help!
To be used only for spelling or punctuation mistakes.